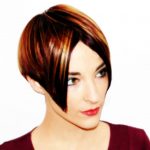 Telephone: 0161 832 8000
Peter Regan Hair Studio Deansgate Manchester
There are two types of hairdresser – those who do haircuts and those who cut hair. They sound similar but the difference is enormous. Stylists, who do haircuts, limit the range of cuts they are able to create to the number of cuts they know. Their work is basic and often relies on excessive blow-drying, styling products and heated tools. The other type, hairdressers who cut hair, is fewer in numbers but have an almost unlimited repertoire because they have both the ability and intention to create individual looks for individual people. They understand the importance of examining everything about the hair, bone structure and head shape is how to create an individual and unique style for each customer.
Stylistically since the early 2000's there has been a trend for women to have long hair. Only limited skill is required to cut long hair – let's face it long haircuts are what hairdressers learn first when training and because of this trend many stylists have known little else throughout their entire careers. When this trend comes to an end, which it will, which stylists will be able to create new and exciting short styles that require skill in cutting and not contrived styling using hot irons and excessive blow-drying that is impossible for the customer to re-create at home.
If you're looking for first class, bespoke hair cutting, colouring, hair straightening and styling services in a friendly and private environment, then this is the salon for you. With a wealth of experience gathered over 40 years, Peter has a repertoire of skills that are second to none. From short haircuts and hair up for long hair to keratin hair treatments and permanent hair straightening. Because the salon is so discrete, all technical services are carried out in complete privacy not in full view of the window as with so many other  hairdressers in Manchester City Centre.
Working on both women's and men's hairstyles, Peter has worked at the highest level both in salon and for 18 years in the Film Industry and is able to deliver the very best personalised hair services. As Manchester hairdressers the salon is quite unique as all services offered are carried out by Peter Regan himself. The salon is completely exclusive, situated on the second floor of Milton Hall on Deansgate There is even a security guard at the main entrance to ensure that no undesirables get into the building.
The salon philosophy is to create first class yet natural looking hairdressing at affordable prices. Your hair is the one thing that you wear every day of your life, so it is important to make sure that the statement that it makes is exactly what you want. It is our job to discuss, advise and fulfil your requirements in a welcoming and friendly environment.