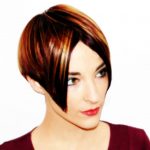 Telephone: 0161 832 8000
Peter Regan Hair Studio Milton Hall 244 Deansgate Manchester M3 4BQ
Situated close to the Hilton Hotel Deansgate, Peter has a repertoire of skills that are second to none. Offering first class, bespoke hair cutting, technical and hair styling services in a friendly and exclusive environment,  From short, stylish haircuts and hair up for that special occasion to keratin hair smoothing treatments and permanent hair straightening in Manchester. Add colouring and highlighting that is designed to look completely natural and we feel that you will soon see the advantage of the undivided attention you will receive. Because the salon is designed to be personal, all hair colouring, permanent hair straightening and other services are carried out in complete privacy not in full view of a retail window as with so many other hairdressers in Manchester City Centre.
Working on both women's and men's hairstyles, Peter has worked at the highest level both in salon and for 18 years in the Feature Film Industry and is able to deliver the very best personalised hair services. As Manchester hairdressers the salon is quite unique as all services offered are carried out by Peter Regan himself. Access to the salon is easily controlled, situated on the second floor of Milton Hall on Deansgate. To ensure full security the main entrance is manned at all times to guarantee the safety of you and your belongings and that your privacy is always maintained.
The salon philosophy is to create first class yet natural looking hairdressing at affordable prices. Your hair is the one thing that you wear every day of your life, so it is important to make sure that the statement that it makes is exactly what you want. It is our job to discuss, advise and fulfil your requirements in a welcoming and friendly environment.